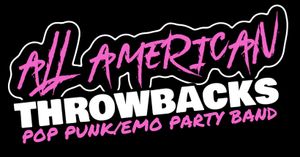 New section
The ultimate pop punk & emo party!
all american throwbACKS IS THE ULTIMATE PARTY BAND PLAYING YOUR FAVORITE THROWBACK EMO, POP PUNK, AND ALTERNATIVE ROCK HITS FROM THE LATE 90S THRU NOW. THEIR SETLIST INCLUDES HITS FROM FALL OUT BOY, BLINK-182, MY CHEMICAL ROMANCE, SUM41, PANIC! @ THE DISCO, AND TONS OF OTHER HEAVY HITTING BANDS FROM YOUR EMO PHASE.
THIS BAND IS MORE THAN JUST A SHOW, IT'S A PARTY! WITH TOTAL CROWD INTERACTION AND NON-STOP BANGER AFTER BANGER, THESE GUYS DELIVER A COMPLETELY ENERGETIC PERFORMANCE THAT WILL HAVE YOU SINGING ALONG SONG AFTER SONG!
"I saw these guys last october and it was the best show i have been to all year!! i can't wait for the next one."
- brandy
"great show! i felt like i was actually at warped tour. the band even took pictures with US after the show and hung out and talked to our group. "
- PAIGE
"ME AND MY HUSBAND MIGHT GET A DIVORCE AND THEN MARRY EACH OTHER AGAIN JUST SO THEY CAN PLAY OUR WEDDING! THIS BAND IS AMAZING XD!
- JANA